Printer Friendly Version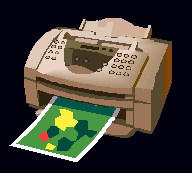 Menu Outline
Single 1/4 Pound Burger
Double 1/2 Pound Burger
Triple Plus 3/4 Pound Burger
Super Burger
(1/2 pounder with Cheese, bacon & Mushrooms)
B.I.G. Burger (Spiced Gourmet 1/4 pounder)
Super B.I.G. Burger
(Spiced Gourmet 1/2 pounder with Bacon, Fried Onion & BBQ Sauce)
Hawaiian Burger
(1/4 pounder with Cheese, Ham, Pineapple & Tropical Sauce)
Chicken Breast Sandwich
(4oz. Charbroiled Breast smothered in a choice of Teriyaki, Honey garlic or BBQ Homemade Sauces)
Tropical Chicken Sandwich
(4oz. Charbroiled Breast with Pineapple & Tropical Sauce)
Super Chicken Sandwich
(4oz. Charbroiled Breast with Cheese & Mushrooms smothered in a choice of Homemade Sauces)
Chicken Fingers (3 pieces) (5 pieces)
(5 pieces of Breaded Pure Breast Fillet Tenders with a choice of Dipping Sauces: Honey Mustard, Sweet & Sour, Plum or BBQ)
Chicken Nuggets (5 pieces) (10 pieces)
(8 pieces of Breaded Nuggets with a choice of Dipping Sauces: Honey Mustard, Sweet & Sour, Plum or BBQ)
Jumbo Dog
Super Dog
(Jumbo Dog with Cheese, Bacon & Mushrooms)
Buffalo Burger Ostrich Burger
(1/4 pound Pure Buffalo Meat topped with a Homemade BBQ Sauce) (1/4 pound Pure Ostrich Meat topped with a Homemade BBQ Sauce)
Elk Burger Lamb Burger
(1/4 pound Pure Venison Meat topped with a Homemade BBQ Sauce) (1/4 pound Pure Lamb Meat topped with a Homemade BBQ Sauce)
Pork Burger Turkey Burger
(1/4 pound Pure Pork Meat topped with a Homemade BBQ Sauce) (1/4 pound Pure Turkey Meat topped with a Homemade Honey Garlic Sauce)
Harvest Gold Meatless Burger with a tasty touch of Garlic infused)
Wild Boar Burger Super Harvest Gold
(1/4 pound Pure Wild Boar Meat topped with a Homemade BBQ Sauce) (Cheese, Mushrooms & Fried Onions)
Free Range Beef Burger Triple Mix Burger
All burgers, sandwiches & dogs are served with your choice of free toppings which include:
Mustard, Ketchup, Mayo, Relish, Onion, Lettuce, Pickles & Tomato
Cheese (Cheddar or Swiss) Bacon Mushrooms
Ham Pineapple Fried Onions
Fresh Cut Fries - Sizes: Regular Large Extra Large
Golden Onion Rings Curly Spicy Fries
Poutine Super Poutine Garlic Toast
Fresh-Made Garden Salad Gravy
Caesar Salad
Real Milkshakes with Real Fruit Flavors- Sizes of Reg.12oz.
Med. 16oz.
Lrg. 20 oz.
Flavors- Chocolate, Vanilla, Strawberry, Raspberry, Root Beer, Blackberry, Banana, Peach & Mango
Pop Cans - We are proud to serve Pepsi products.
Juices- V-8, Clamato, Apple, Orange, Grapefruit.
2% Milk or Chocolate Milk (250mL size)
Tea and Coffee
The Best Value Meal Deal
Includes a Single 1/4 Pound Burger, Regular Fries and a Canned Pop
(Sorry! No Substitutions)
Kids Burger Meal Deal
Includes a Kids 1/6 Pound Burger, Small Fries and Canned Pop
Kids Nuggets Meal
Includes 4 pieces Breaded Chicken Nuggets, Small Fries and Canned Pop
Call ahead to order and pick-up! No Wait!
4th Street SW 244-9293 Macleod Trail 252-4840
<![if !vml]>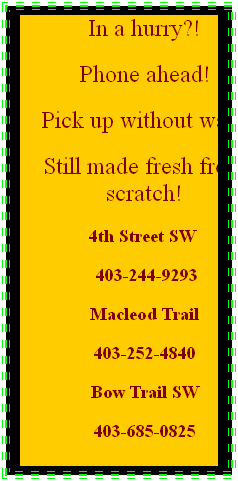 <![endif]> Bow Trail SW 685-0825
<![if !vml]>

<![endif]>