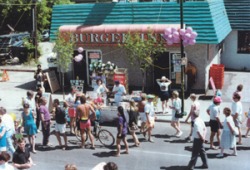 Late in 1988, two unemployed professional friends, one with a Ph.D. in Mineralogy; and the other with a Ph.D. in Soil Chemistry, had the guts to embark on something entirely unrelated to their backgrounds and experience. Due to a temporary lack of professional employment opportunities in their respective fields, they turned to the world of business to make a living. Their first stint was the opening of a small specialty cookie shop in a strip mall located in Calgary's suburbs, which quickly turned into a failure with substantial losses, due mainly to their lack of business experience. Undeterred by their first foray, they redoubled their efforts and went in for a second try.


Through a business acquaintance they learned about someone who owned two businesses (both quite run down) that were up for sale. One was a pizza place and the other a burger joint. The burger eatery had an asking price less than half of that of the pizza place. Basically, due to limited financial resources they could not afford the more expensive venture and ended up purchasing the Burger Inn. At the time they took possession, the restaurant was in an extremely poor condition and even on the best of days, sales were not sufficient to cover expenditures. The first step they took was to clean up the place, which was done over a period of a couple of months at nighttime. Almost every night, without closing or reducing business hours, they started renovations of the counters, floors and walls in order to upgrade the place to a more presentable condition.

Without any experience in the food industry, the only common sense approach to doing business was to try and serve quality food for as low a price as one could afford. Over the next year or so, sales were slowly increasing and they started to hear more and more encouraging comments being made by their customers. Comments such as "great burgers" to sometimes "best in town" or even "best burger I have ever eaten".

One day in early 1989, a gentleman driving a Jaguar walked into the store around the suppertime. He told them that he had just heard a flattering CBC radio review about their food and he had come to try it for himself. The next morning they picked up a copy of the restaurant review:

(copy of Kevin Brookers cbc radio restaurant review commentary in its entirety)

This was extremely encouraging; as for the first time they had heard an expert food commentator rave about their food.

Over the next two years, Burger Inn's business started to pick up more and more. Things looked so well that they decided to move across the street into a much bigger space. This turned out to be an almost fatal move. The combination of extremely high rent and overhead, combined with a markedly unjust and ruthless landlord almost put them out of business for good.

Discouraged but not down and out, they started to set up their second location and, after the expiry of their lease, they moved the original store back into the building that had given them their start across the street. Continued success, hard work, and a lot of learning made possible further expansion. To which now, Burger Inn Restaurants have twolocations in Calgary.